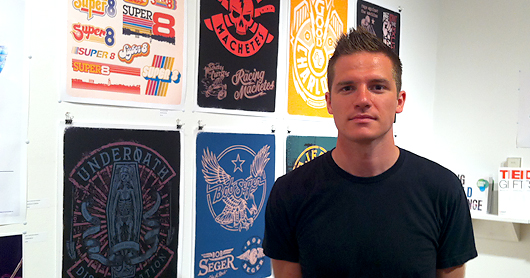 The second annual WMC Fest is going on right now. I spent the day in the gallery, with some of my work hanging behind me. It'll still be going on tomorrow, but I had to head back home for some family obligations.
The lineup of artists got a little bit beefed up this year, and I was excited to get to say hello to a couple of designers. My man Pants Sechrist was there, and I thoroughly enjoyed our chats. I feel like him and I could probably go on and on for hours, but in crowd of people, it's a little tough.
Also got to meet Oliver Barrett, another designer from Cleveland. It's nice to be able to talk a little basketball, even in art circles. So thanks to Pants and Oliver, the resident Clevelanders.
Standing across from me was Ft. Wayne designer, Nate Utesch. Who, after talking for a bit, realized we knew some of the same people.  Nate's doing some great work, as well as curating Ferocious Quarterly, a publication that collects a ton of great work. I picked up a few books right away.
I was also honored to be able to finally shake Aaron Draplin's hand. Draplin probably sits among my top 5 favorite designers, and the dude's good heart just makes any chat, no matter how short, quite enjoyable and refreshing. Got my hands an Ohio poster, designed by Draplin — drawing attention to our wonderful state.
Good bunch, these WMC dudes. On the 2 hour drive back down to Columbus, it got me thinking about what a great event it really is, and what the potential for this whole deal is for the future. Reminds me of an underground version of the popular TED conferences.
It also got me thinking about what I have to do to make my site more interesting. Draplin posts every day, guaranteed. Sometimes about nothing at all. But the fact that he pops in everyday makes his site feel like something is happening, all of the time, and that you want to check up on it.
I'm going to start trying a little bit harder on building a brand around myself, and doing something with this big opinion of mine. I've got so much to say, but so much that I've held back from this site, not wanting to strike any nerves.
But heck with it. I'm a good guy, with a lot of opinions. I'm gonna try and be a little more vocal.
Comments
comments