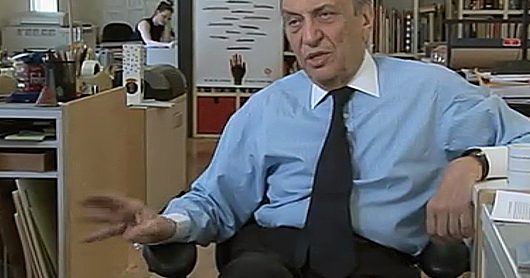 If you're a graphic designer, and unfamiliar with Milton Glaser, then you should do what you can to learn about Milton Glaser.
Milton's most iconic piece is probably the I Heart NY icon, for which he didn't get paid a dime. My favorite, among many others, is his Dylan poster.
I watched the documentary Milton Glaser: To Inform and Delight last night. I'm a sucker for these types of documentaries. In graphic design, there are very few films that we can watch about our craft, so when the chance comes up to watch other people talk about what we do everyday, well – I love to indulge. (by the way, AppleTV with Netflix is life-changing.)
Now I normally hate to hear people over-talk design. I'd rather them just get to work. But Milton is one of the few designers who I believe have the wisdom and career to know what they're talking about. If you're gonna listen to anyone go on and on about god-knows-what, this is your guy. Check it out.
Follow up
I was thinking about Milton Glaser a lot, as I continued thinking about the film. While I respect the amount of work the man has done, I can't help thinking – Is Milton Glaser the reason the 70s and 80s we're so corny? Is he solely responsible for some of the design of that era that makes us cringe today? I feel like his style sits around in brass frames, getting bleached by the son, making you realize that the dentist's office you're sitting in is horribly outdated. It's a matter of taste, for sure, but I cannot help but to feel like his style may be everything that I hate about that era? Or is our work of today going to be hated by designers of the future? Why do we love the design work of the fifties, but then stark to gag when we start moving into the popular art of the 70s and 80s? Was Milton Glaser the end of nostalgic, timeless design?
I'd love to hear your thoughts. Please comment.
Comments
comments