The first week of my online class on Lettering has been great. Lots of students submitting great work, and giving great feedback. If you haven't checked it out, take a look at Lettering Made Simple: Efficient Methods for Custom Type.
My main goal in the class is to help designers to not be intimidated by lettering projects. There is a vast world of lettering styles, and you can use simple methods to help you find your unique aesthetic.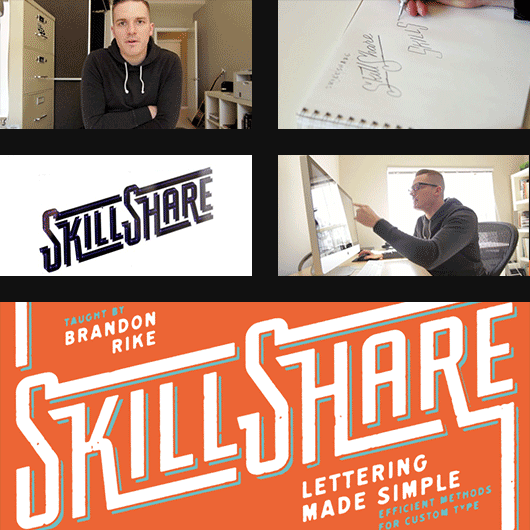 Here is some of the feedback of from the course:
"This class is great for anyone who wants to learn more about type and manipulating an existing font. It is also perfect for beginners and professionals. I know personally from working in the field of merch design that Brandon Rike is in a class of his own amongst designers, and this class helps prove that. I believe you can always learn something new and after taking this class I can honestly say that I learned several new things. I look forward to learning much more from Brandon Rike in his future classes if he chooses to do more!
-
Corey Thomas


Very well done, easy to follow and informative. Good teacher!
-
Autumn Smith


This class is packed with great and helpful tips to really streamline ones workflow! Highly recommend watching as it's a quick and informative resource for designers who work in illustrator. Thanks Brandon for keeping it simple and not getting to technical!
-Nadine Picone
I really can't say enough about this class. It teaches you exactly what it promises in a clear and simple way. It's very practical, and Brandon goes through his design process step by step. He also gives a lot of insight into what it takes to be a design professional. I was inspired.
–Seth Duckens



This class is for a very specific type of custom type. San-serif fonts, adding lines to preexisting forms, modifying those forms for character and applying effects for detail and further character. It has a clear focus which was helpful but also goes into detail on many tricks Brandon uses to stay efficient. Though it's a short class I ended up learning one main technique I can see myself utilizing regularly (extending letters) and a number of little tips I can't wait to use on future projects.
-Nick Terry

A very nice class from a talented designer. I would have liked the initial concepting/sketch phase to have had more time dedicated to it by exploring a few different shape and lock-up ideas before jumping into the technical execution. Some ideas for approaching the initial exploration would be helpful considering that it is arguably the most important aspect of the entire process. I did appreciate the different way of cleaning up lines and shapes and the final psd organic edge trick. Very inspiring overall.
–Scott Howard


Let me start off by saying, everyone can learn something new. Whether you're a pro at Illustrator or not, I'd recommend this class just for the fact of watching another designers workflow. That being said he's clear with his steps and explains where needed. What did I learn from this class? How to have fun with type and try new things, explore options and if they don't fit, toss'em! I guarantee you'll learn something in this course. Thanks Brandon (our name rules) for showing us a peek into how you work.
-
Brandon E.


Comments
comments