"Doing what you love is a fight – an ongoing battle against every influence that wants you to conform. There is no solace in the conformity, only a blurred view of what you set out to be. Spend your life creating something. Betray The Institution."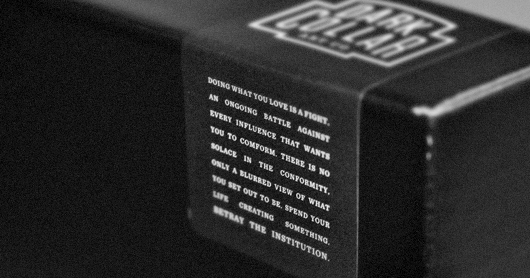 This manifesto of mine adorns every package that ships out of Dark Collar Art Co. T-Shirts, Posters, Prints, etc — this is the best way I can assure you that what you're getting is from me, and that you can get an idea of my general point-of-view. This manifesto is the easiest way for me to sum up who I am, and who I hope to stay.
For those of you that haven't known of me for very long, Dark Collar was the name I called my design operation since it's beginning in 2002. At the time, I was 19 years old, and writing songs chock full of teenage angst. My view then was that I didn't want to be a blue-collar slave, or a white-collar clone, but I knew I could find some place in between, where I could call my own shots when it came to occupation. I'm as much an advocate of doing what you love for a living, as I am an artist.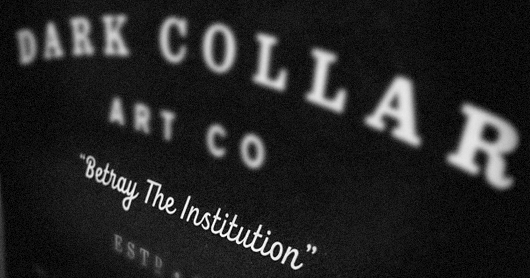 The definition is a bit clunky, but the name Dark Collar popped into my head. While I didn't love it, it stuck, and it's what I called my operation until 2011.
In 2011, I decided that I didn't want to create a facade of a studio name, and just go by my own name, Brandon Rike. I even tried to start using orange, my favorite color. I tried, and I just don't like it. It's not me. Back to black.
So, when I finally set up my LLC, I was leary about calling my company Brandon Rike Design or something similar. In the haste of setting up the LLC, I called it Dark Collar.
So here I am. Brandon Rike – aka Dark Collar. I may use tags like Art Co, Studio, Haus, etc – but I'll be operating most of my projects under the name Dark Collar. I will be phasing out all BR related stuff, and hopefully trying to have a consistent Dark Collar brand across all platforms.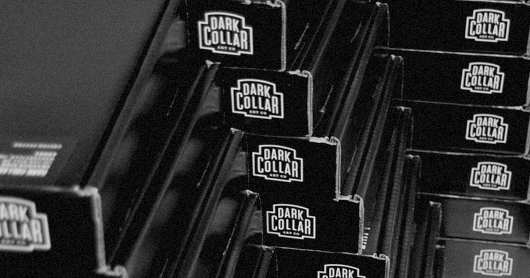 The first things that put the Dark Collar Art Co name in the spotlight is the poster and print shop that I launched last month. The other, more recently is The Racing Machetes. On the neck tags of The Racing Machetes shirts, you will read: "By Dark Collar Art Co."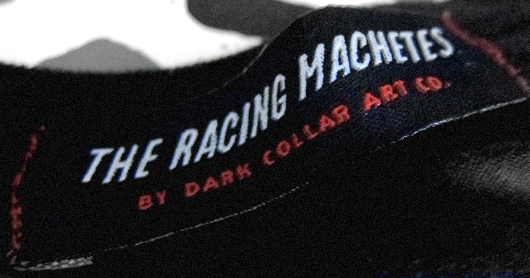 My intent is for you to know that your products are coming from someone who is dedicated to art, and makes a living with creativity. These products are my blood, sweat, and tears, and I intend on doing whatever I can to make sure that everything I sell is the finest quality.
This sets the stage for a series of brands, lines, and products that I plan to roll out in the future. I am very excited about what has already happened, and what is to come. I want to make great art, great products, and I want to share them with you. Thanks for coming along.
-Brandon
Comments
comments